Protocol of the Week
Teller Finance
Teller Finance is a DeFi lending protocol built to evaluate consumer credit risk. Through this evaluation, Teller can provide cryptocurrency loans that do NOT require a collateral amount that exceeds the principal loan value.
There are two types of loans you can access through Teller:
Unsecured Loans
Loans that don't require collateral. These loans are approved by evaluating a borrower's banking history (your creditworthiness). Borrowers that connect their bank account through Teller can receive interest rates as low as near zero percent.
Secured Loans
Secured loans require a minimum collateral requirement. Those requesting a secured loan can still connect their bank account to reduce their interest rates based on their creditworthiness and banking history.
DeFi Strategy of the Week
Lending and borrowing through Teller Finance.
Teller's cloud-based infrastructure allows the protocol compute credit and banking data privately. The computation enables Teller to generate individual loan terms based on a users' creditworthiness. The following variables influence this Credit Risk Assessment (CRA):
Collateral
Bank Balance
Monthly Income
New Monthly Income
Through this proprietary CRA, Teller enables users benefit as both depositors and borrowers better. As a depositor with Teller, you can earn passive income on your investment. As a borrower, you can request both unsecured and secured loans to use in margin trading, liquidity mining, arbitrage, and more.
To begin utilizing Teller, click here and connect your wallet. Then, select whether you want to Deposit or Borrow.
Yield Farm of the Week
Yield farming via Yearn Finance.
Yearn Finance is a suite of DeFi products that provide lending aggregation, yield generation, and insurance on the Ethereum blockchain. Yearn Finance has four core products:
1.) Vaults
Yearn Finance's capital pools. Vaults automatically generate yield based on opportunities in the market. They benefit users by socializing gas costs, automating yield generation and rebalancing, and automatically shifting capital as opportunities arise. Vaults are a passive-investing strategy.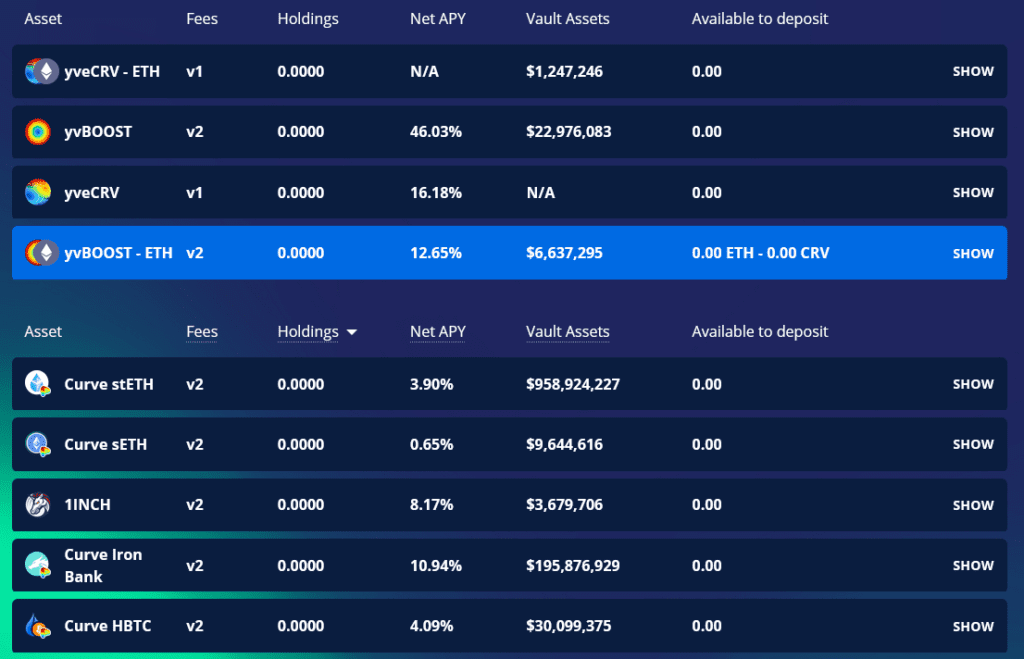 2.) Earn
The first Yearn Finance product was a lending aggregator. Users can deposit to lending aggregator smart contracts via the Earn page. This product optimizes the interest accrual process for end-users to ensure you obtain the highest interest rates at all times.
3.) Zap
The Zap tool enables users to swap into and out of several liquidity pools available on Curve.Finance. Currently, customers can use five stablecoins (BUSD, DAI, USDC, USDT, TUSD) and Zap into one of two pools (y.curve.fi or busd.curve.f) on Curve. Alternatively, users can Zap out of these two Curve pools and into one of the five stablecoins.
4.) Cover
Through Yearn Finance, you can obtain coverage against financial loss for various smart contracts and/or protocols on the Ethereum blockchain. Nexus Mutual underwrites the coverage.
Yearn Finance Earn & Vaults
The two most relevant categories for those interested in using Yearn Finance for yield farming are Earn and Vaults. Yearn Vaults are capital pools that automatically generate yield. You benefit from Yearn Vaults specifically through socialized gas costs, automated yield generation & rebalancing, and automatic shifting capital.
Vaults are a perfect vehicle for more passive crypto investors. You don't need to have a detailed knowledge of the underlying protocols to benefit from Vaults. Yearn Earn was the protocol's first product. It's a lending aggregator that automatically shifts between investments based on interest rate changes. Earn optimizes the interest accrual process to ensure you're obtaining the highest interest rates at all times.
To begin utilizing either Yearn Earn or Vaults, simply connect your wallet. Then navigate to either the Earn or Vaults dashboard. From there, select your desired investment and amount.
News & Industry Updates
"Syn City," a play-to-earn mafia game founded by former TRON head of business Roy Liu, also counts former Disney, Roblox, Ubisoft, and EA veterans on its development team.
Pendle, a yield tokenization protocol, launched on Avalanche on Nov. 11th, bringing new functionality to Avalanche. Now, via Avalanche, traders can use a one-click interface to invest in Pendle with cheaper fees than ever before.
According to a recent study from the famed financial firm, 31 percent of fund managers and 24 percent of alternative investors plan to add crypto to their portfolios.
Daniil Egorov, head of the Russian Federal Taxation Service (FTS), said his agency is closely monitoring the crypto market as it can potentially cause "significant erosion" to Russia's tax base.
A recent report from the IRS stated 93% of all seizures carried out by its Criminal Investigations (CI) team involved cryptocurrencies – worth $3.5 billion.