Crypto trading can be time-consuming if you're an active trader. As a result, many crypto traders turn to automated platforms to help them manage their investments. Today, we will cover one platform looking to help crypto investors through automated trading bots and other helpful tools.
Bitsgap
Bitsgap is an all-in-one trading platform from Estonia, founded in 2018. Their platform contains all the features now, all but mandatory for automated trading platforms. Currently, Bitsgap supports 25 exchanges.
This high number also means Bitsgap users have more arbitrage opportunities. The more exchanges tracked the higher probability of finding a price difference between them.
Another tool that sets Bitsgap apart from its competitors is its demo interface. Users can utilize the demo version to test out strategies without risking real money. Below we'll go through all Bitsgap's features in more detail.
Features
Over the past three years, Bitsgap has steadily added to its list of features. These features benefit every Bitsgap user, from beginners to veteran traders.
Bots
The Bots tool gives you a complete overview of the best opportunities you can trade. These opportunities are based on three days of backtesting made by Bitsgap and is powered by the GRID algorithm. The GRID algorithm works by defining the range and limits for investment.
Then, the bot distributes these investments proportionally. So, each time the system executes a limit order, the algorithm places another sell order for a price slightly higher than the market value. The reverse is true for limit orders.
Each time the previous order is executed, the platform makes another buy limit at a price slightly lower than market value. Thus, if a given crypto's price doesn't exceed the trader's predefined value range, Bitsgap will continue conducting trades nonstop.
Plus, this bot is cloud-based. Being cloud-based means you don't have to install anything and don't need a specific device to use it.
Trading
Another critical feature is Bitsgap's high-quality trading tools. These tools are available for spot and futures trading on multiple exchanges through a single interface. So, Bitsgap can save you time and help boost your reaction speed, allowing for increased arbitrage opportunities.
Bitsgap provides the following trading orders:
Stop-Loss and Take-Profit Orders to limit your losses if your trade goes sour.
Shadow Orders – a trading option that gives you access to the exchange's orders book. You can only execute Shadow Orders the asset reaches your set price.
Stop Limit Orders you can place at a price at which it's considered a limit order.
Market Orders allow you to execute orders at the best market prices instantly.
Signals
Market signals is another crucial feature of Bitsgap. The platform's software and team analyze more than 10,000 crypto pairs every second to create these signals. Bitsgap's signals note price anomalies in the market. Price anomalies indicate a sharp movement in the price of that given crypto.
You can see what coins are the best trading opportunities through these signals. Subsequently, you can set a Smart Order for these coins. As noted above, a Smart Order combines Stop-Loss and Take-Profit orders. So, via Bitsgap, you can complete an order automatically if it meets any of you predefined conditions.
Arbitrage
In traditional investing, arbitrage is locking in gains by simultaneously purchasing and selling an identical investment across two different markets. Arbitrage lets traders capitalize on the same asset's differing prices across two different regions.
Arbitrage for crypto assets means exploiting gaps in the value of one coin on two different exchanges. But the time slots in which these differences in value exist are too small for human traders to exploit. Enter Bitsgap's arbitrage.
The platform's algorithm commits deals within milliseconds so you can profit from these delays between markets. Arbitrage deals are calculated based on your account balance for maximum profits and minimum risks.
Portfolio
In addition to these trading features, Bitsgap allows you to track all your crypto investments across multiple coins and exchanges. Through the Portfolio tab, you can monitor over 1800 types of cryptocurrencies across more than 25 exchanges. And you can use the Portfolio tab in confidence, knowing it automatically records trades and updates your balance in real-time.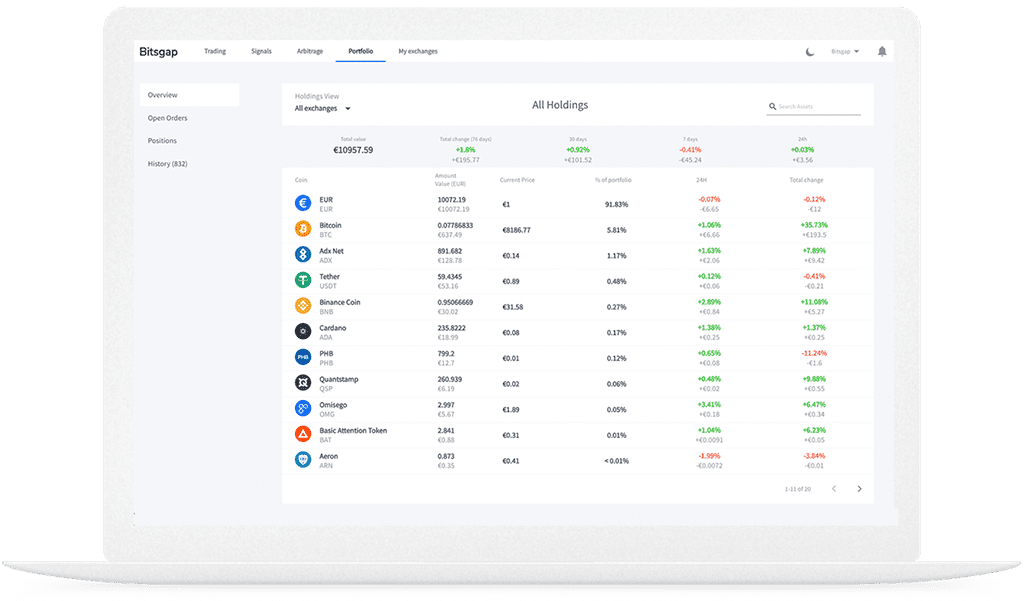 Through your Bitsgap portfolio, you get:
Automated updates of all transactions
Performance tracking based on your trading history
Quicker access to all your crypto assets
Real-time overview of trades and balances
Demo
As previously mentioned, one of the primary features of Bitsgap is its demo platform. This demo mode serves as your ultimate beginner's guide to crypto trading. Upon registering, you'll receive five BTC worth of simulated demo money to use across five different exchanges.
You can practice some trading strategies through this mode without risking actual assets. Through the demo account, you can also access all the other features of Bitsgap, including Arbitrage, Signals, and Bots. Just double-check to ensure you've enabled the demo mode. Don't worry; the big blue demo button is tough to miss.
Pricing
When it launched in 2018, Bitsgap was free. Today, you'll have to pay for even Bitsgap's basic features. Still, if you want to test the platform out before deciding, Bitsgap offers a 14-day free trial. Currently, Bitsgap provides three tiers of plans:
Basic
Two active bots with no monthly trading limits
Grid bots
Unlimited access to Smart Orders and the Trading Terminal
Price = $19/month
Advanced
Five active bots with no monthly trading limits
Grid bots
Future bots
Trailing Up and Trailing Down for bots
Unlimited access to Smart Orders and the Trading Terminal
Price = $44/month
Pro
20 active bots with no monthly trading limits
Grid bots
Futures bots
Trailing Up and Trailing Down for bots
Take Profit for bots
Unlimited access to Smart Orders and the Trading Terminal
Price = $110/month
Bitsgap isn't for everyone. If you're starting or don't want to execute an advanced trading strategy, such a platform is likely unnecessary. Still, if you're interested in crypto trading but want a little help with execution, Bitsgap's features may be perfect for you.